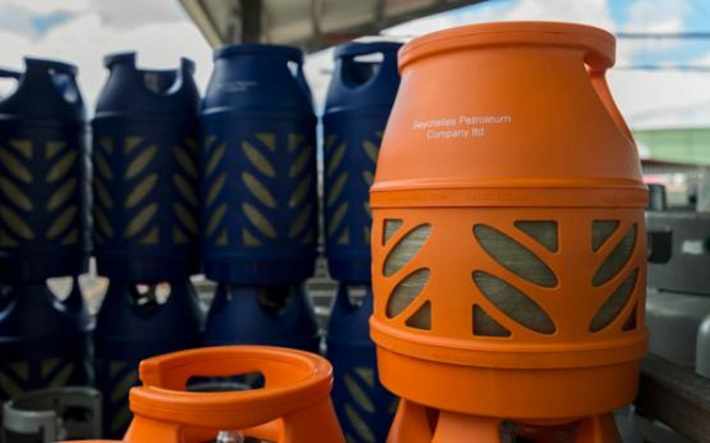 The price of LPG (liquid petroleum gas) has increased from R15.00 to R17.50 per kilo as of today, Monday, May 17, 2021.
The following is how the Seychelles Petroleum Company (Seypec) explains the reasons for the increase:
The Seychelles Petroleum Company (Seypec) has lost over R12 million in the last two years as a result of its subsidies on the selling price of LPG gas. The R15.00 rupee subsidy, which was implemented in response to a government request in 2019, has been maintained since then, and despite successive cargoes costing higher, Seypec has been forced to absorb the loss as a subsidy. Since then, LPG has been the only imported energy commodity that Seypec has subsidized, as opposed to all other fuel products, which are charged at cost.
While many will perceive this as putting further strain on Seychelles households and companies, it is important noting that the increase is only R2.50 per kg, or R25 for a home using a 10kg bottle every month.
Seypec recognizes that raising the LPG price will have an impact on its consumers, but it insists on upholding its national mandate as an efficient, dependable, and sound corporation.
"We cannot bear such financial constraints resulting from huge losses as we are putting tremendous budgetary pressures on a company which must ensure the import and distribution of fuel products so indispensable for the economy,"says Sarah Romain, Seypec's general manager, commercial.
LPG is imported three times a year at the very least. The cargo purchased in the fourth quarter of 2020 had a retail price of R19.64 per kg, however the cargo purchased in March 2021 was more expensive because the commodity's price had climbed by 36% internationally and the currency rate in Seychelles had similarly climbed to R21.75 to the US$, reflecting a 5% rise from November 2020.
"We retain our support for homes and businesses by granting a partial subsidy," Mrs Romain said. Our motivation for this decision is to reduce our financial exposure to this product while remaining committed to our clients. This is a shared obligation, as we follow financial governance guidelines. We have the ability to delight a crowd, but our ability to do so is limited by our stringent resource management of a corporation that follows best practices. We anticipate a backlash in some sectors, but we believe we are maintaining pricing within our means."
The latest LPG price hike comes as Seypec claims to be passing on all exchange rate benefits to its fuel products. This follows a more favorable rupee/dollar exchange rate on recent Mogas and Gasoil imports. It's worth noting that Gasoil and unleaded motor gasoline are bought twice a month on average with a 60-day credit term, but LPG is purchased three times a year and is pre-paid.
"We have constantly reduced the price of Mogas and Gasoil since the rupee has started to gain value against the dollar as the purchase is being done more frequently and has to reflect the exchange rate of the day," Mrs Romain explains. "We always want our customers to take advantage of the market mechanism in terms of pricing. Our customers are benefitting from the reduction in prices at the pumps and since the beginning of May, there has been a drop of R3.69/litre primarily as a result of the rupee appreciating against the dollar. This is our customer-oriented price policy we have adopted for years. We pass on the actual rise or decrease in prices to our customers and on LPG, we go further by granting a subsidy. All this is done without one cent of subsidy from the government treasury and budget allocation."
The issue of price increases that harm customers will always be a source of controversy and outrage. Households and businesses will express their dissatisfaction, but social media users will be enthralled. However, each major decision is based on economic considerations. Is any huge loss sustainable? Can a subsidy be maintained at a level when it can endanger a national company? This socio-economic debate is endless.